Hey gang listen up. Our friends at the Starland Ballroom got hit hard with Sandy and as many of you know they are closed for a little while. If you can help out the people of the east coast- please do...this entire area is still  impacted and can use your attention.
The folks over at the Wonder Bar 5th and Ocean, Asbury Park, NJ 732-502-8886 have graciously lent us a hand in giving us a place to play on Dec.7th. Help us help New Jersey ($5 from every ticket will be donated to the Monmouth County Food Bank.) We're also working on Starland tickets being accepted at either the Wonder Bar or the philly TLA show...stay tuned and please check with the venues. (UPDATE 11/20: -  the Starland will be issuing ticket refunds - so please contact the Wonder Bar & TLA directly to go to those shows- thanks.)
Sometimes we all need a little help...there are a lot of people still reeling from the storms and could use a little help.  thanks ~X~
from the Starland via @aysialuna5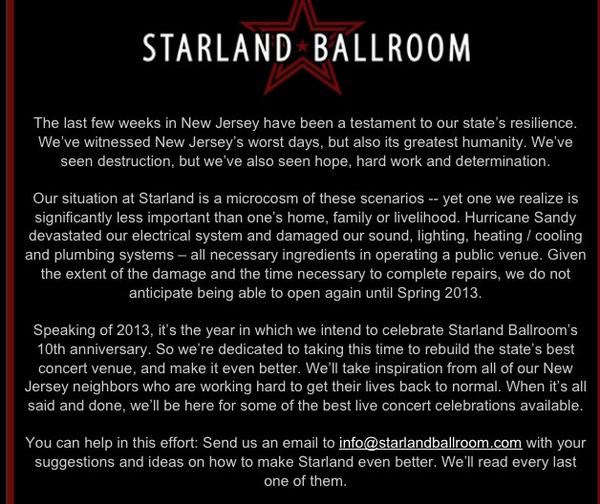 PS- Starland when you re-open - we'd love to play your 10 year anniversary.